Appearances
The El Paso Rhinos strive to enhance the lives of their community's residents.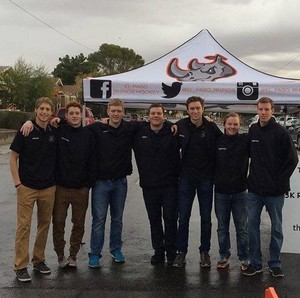 Through community appearances to local schools and charities, we have encouraged excellence in education and assisted in raising thousands of dollars to help the underprivileged. Each season, the Rhinos make over 120 appearances in El Paso County and look forward to visiting many more organizations in the seasons to come. In the past, players have visited Crazy Cat Cyclery, refereed a UTEP Powderpuff game, toted the Thorne Cup and National trophies around to local businesses and schools, coached children's sports teams on Fort Bliss and rode along with police officers on patrol. Rhino players also visit local elementary schools weekly to help students in the classroom. For more information on our "Skate Mates" program, click here.

If your organization or school would like to request the presence of Spike, the players or staff, please email info@elpasorhinos.com. Please review the requirements provided below to determine if your organization fits our guidelines.
1. Request must be received at least two weeks prior to the appearance date
2. Appearances must not be for religious or monetary gain.
3. Organizations are limited to one (1) request per month.
4. Appearances must take place in El Paso County
5. Requests must be emailed to info@elpasorhinos.com and contain the date of the event in the subject line
All appearances are based on a first-come, first-served basis and are subject to availability.
To book Spike for an engagement, please fill out the form found here.
*The Rhinos reserve the right to refuse service to any organization.