Season Tickets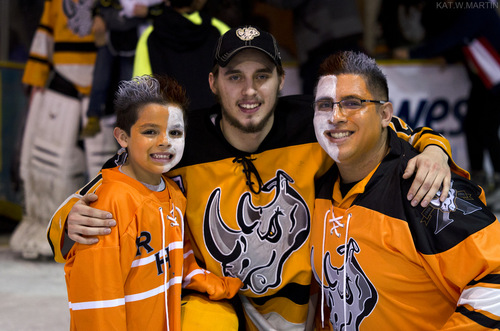 As the coaching staff prepares for another great season, we want you along for the ride! As a season ticket holder, you'll be entitled to exclusive ticket holder benefits! Our season ticket holders sit in the very best seats in the house, have exclusive contact with the team, receive access to inside Rhino info and reap many other rewards. Season ticket holders and ad sponsors will be the first to see new Rhino merchandise! In addition to these benefits, parking passes are also available. Avoid parking lot entrance traffic and park in the same space before every game with a Rhino Parking Placard.
Other benefits include:
· Receive tickets before the season
· Receive discounts for birthday parties
· One free child's birthday ticket package
· Group ticket discounts
· El Paso Hockey Association discounts
Remember, the price of each ticket package increases the longer you wait! However, purchasing Rhino season tickets can be made easy whenever you purchase them! You can fill out the Season Ticket form here and email it to seasontickets@elpasorhinos.com. If you wish to opt into a payment play or pay by cash or check, call 915-479-PUCK (7825) to speak directly to a Rhino Hockey Representative.