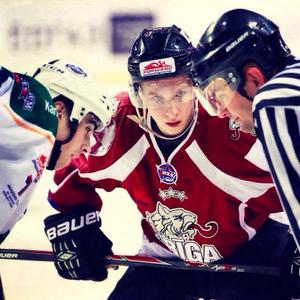 The Rhinos have just inked Latvian forward Ruslans Ignatovics. Born in 1995, Ignatovics will be one of the more seasoned players on the ice because of his age and experience. Since 2011 the forward has played several levels of hockey in his hometown. Between 2012 and 2015, Ruslans competed with HK Riga in the MHL A, arguably the best major junior league in Europe. He also appeared in 11 international games for his home country of Latvia where his team won a bronze medal last season.
Ruslans' talent is supplemented with his attitude and work ethic. An intelligent player, the Latvian forward is also very aggressive despite his 5'7 160 lbs. frame. With HK Riga, he had mostly a defensive style of play, however he was also a solid centerman with great speed. Director of Recruiting Pierre-Luc Racette describes Ignatovics as a "good skater, effective on his faceoff win percentage that can play a very effective 2 way game." Racette adds, "Our coaches will be able to send him out for offensive or defensive missions."
We are looking forward to having Ruslans join us in the Sun City soon! 
Keep up with Ruslans and the other Rhinos by downloading the Official Rhinos Mobile App.